Rupert Neve high-end hovedtelefonforstærker der indeholder Neve´s kendte teknologi fra de store 5088 pulte.
Uanset om du tracker, mixer eller bare lytter til musik, er din hovedtelefonforstærker lige så vigtig for den endelige lydkvalitet som dine hovedtelefoner – men verden er fuld af hovedtelefonforstærker med kompromitteret lyd, headroom og power.
For at imødegå disse mangler har Rupert Neve og hans team hos Rupert Neve Designs udviklet RNHP.
RNHP er for den absolut krævende lytter der vil have alle detaljer i kritisk lytning.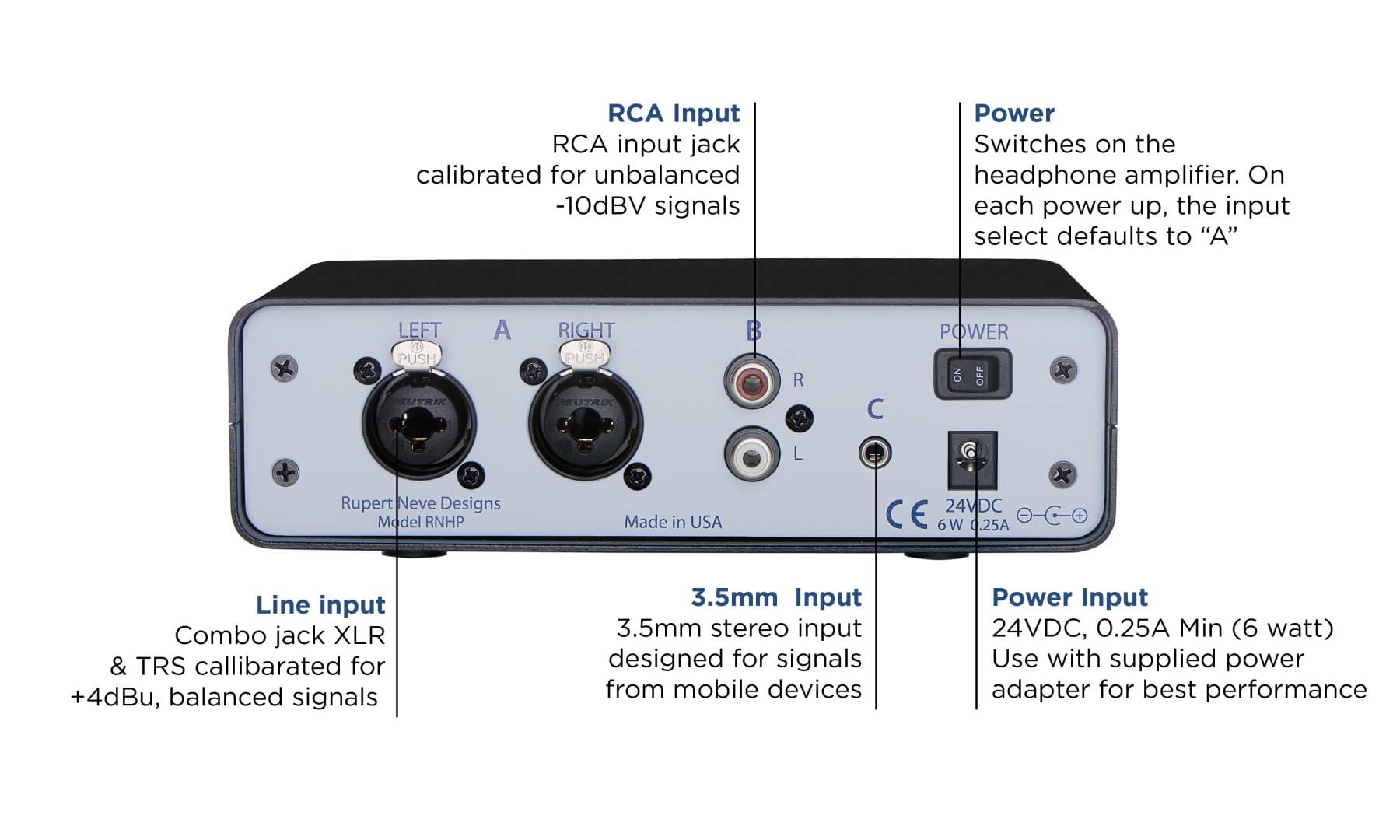 Specifikationer:
Maximum Input Levels
"A" XLR I/P: +22.8 dBu @1kHz
"B" RCA I/P: +14.7dBu @1kHz,
"C" 3.5mm I/P: +3.3dBu @1kHz
Output Power:
As measured with typical headphones, Z=44 Ω: 3.617 VAC RMS @1kHz = 300mW RMS
16 Ω typical Load: 1.933 VAC RMS @1kHz = 230mW RMS
150 Ω typical Load: 5.108 VAC RMS @1kHz = 175mW RMS
Output Impedance
.08 Ω @ 1KHz, 16-150 Ω load, 0dBu input
Frequency Response
+/- .2dB from 10Hz to 120KHz
Noise
Measured with typical headphones, Z=44 Ω, BW 22Hz – 22kHz
"A" XLR Input: -101.9dBV,
"B" RCA Input: -100.9dBV
"C" 3.5mm Input: -88.8dBV
Dimensions
6.5" wide x 4.6" deep and 1.9" tall
Power Supply Requirements
24VDC @ 0.25Amp (6 watt) minimum. Use with supplied power adapter, as this has been carefully selected for best output power and noise performance. May be used with a properly configured 24V battery as well.