Analog Reinvented
Vi introducerer FT-1 freqtube Quad Analog Tube Multi Instance Hardware Plugin
Audio Plugin = Real Hardware
Freqport har udviklet en revolutionerende analog processering i det digitale miljø, som giver dig mulighed for at køre hardware processering som plug-ins i dit DAW – ikke kun for hands-on kontrol, men for bit perfekt high-end audio – via en simpel USB forbindelse.
FT-1 freqtube har fire individuelle rørkanaler, to forskellige rørtyper, parallel analog processeringskredsløb med hardware filtre for hver kanal. Perfekt til at give den ekstra varme man oftest savner i det digitale miljø, mastering og produktion.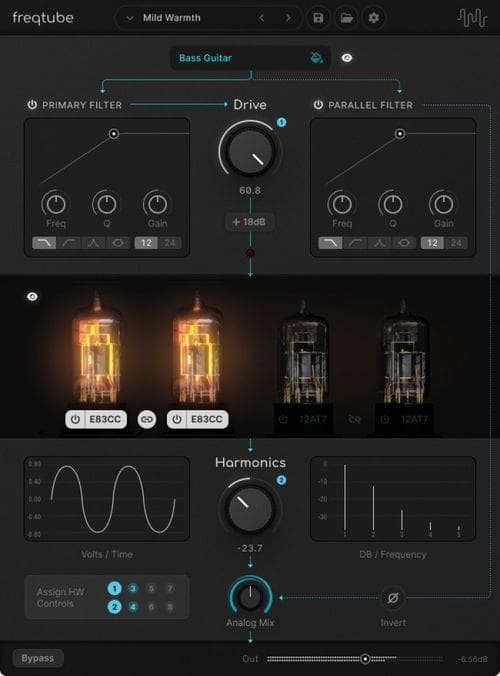 Tekniske specifikationer
Power Input: 24W DC power adaptor. Use only freqport adaptor.
Adaptor Mains: 100Vac – 240Vac. 50/60Hz.
Ambient Temperature Range: 0 to 50C
USB: Type-C
Pro Converters: 120dB DNR 32bit DAC, 116dB DNR 32bit ADC
Dimensions: Unit: 205mm x 130mm x 50mm(W x H x D) Boxed: 350mm x 190mm x 80mm (W x H x D)
Weight: Unit: 810g, Boxed: (1.43kg)
Control and Indication: Full Color Display, 8 assignable knobs, Power switch
Optional Extras: Rackmount kit
Supported Hosts: Major DAW's and OS's supported.